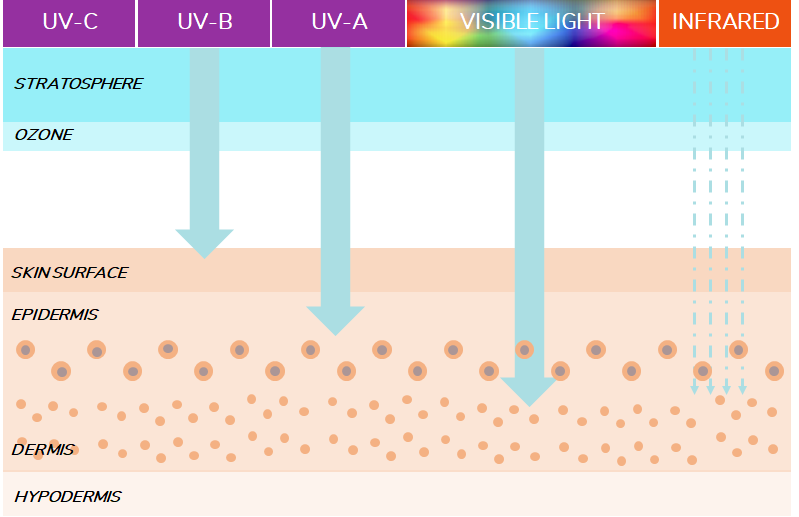 Sometimes called "aging" rays, UV-A can penetrate clouds and glass, and are present during all daylight hours with equal intensity, all year long. UV-A rays are the most damaging to skin at the deepest levels and a main cause of irreversible damage, starting with premature aging, and melanoma. There are approximately 500 times more UV-A rays in sunlight than UVB rays.
Filtered by clouds and gases in our atmosphere, UV-B rays tan and burn the skin (think of the B for "burn"). UV-B rays mostly hit our skin during what we call the sunny season – spring and summer. Essential to our health, UV-Bs are necessary for the body to synthetize Vitamin D from sunlight. However, overexposure to UV-B rays is a major contributor to non melanoma skin cancer; when UV-B cause sunburns, it may contribute to melanoma.
HEVL (High Energy Visible Light) or Blue Light has the shortest wavelength and highest energy. That means it's both good and bad for skin. Believed to be a mood booster, BL is used to treat Seasonal Affective Disorder and regulates circadian rhythms. However, BL can negatively affect the eyes as, unlike UV rays, Blue Light penetrates the retina. Research has discovered that Blue Light is also a growing factor in premature aging because BL can penetrate into deeper layers of the skin, where it impacts collagen and elastin. Alarmingly, while most Blue Light is found in sunlight, our constant, round-the-clock usage of electronics — phones, tablets, and computers — exposes us to the most Blue Light, making it a 24/7 skin and health concern.