Cart (

0

)
Recently Added
Total $0.00
The item you just added is unavailable. Please select another product or variant.
"My pores got much smaller
within just a few days."
Beatriz B.
"The serum made the lines
around my eyes and lips disappear."
Emily C.
"I can't really wear sunscreen because
I'm too dark
.
This

s

erum

changed my skin."

Yvette G.
"My wife got me the serum
and the mousse, and they're
actually great!
I use them (almost) every day."
David L.
"Now I understand the UV-A thing.
I see it on my face."
Louise S.
"This lotion saved my weekend in the Carribean.
I got a really bad sunburn on our first day,
and it was gone the next day!"
Celia J.
SOME NUMBERS ABOUT US AND OUR CUSTOMERS
of our customers use sunscreen or some form of SPF every day
of our customers say they like the sun
of our customers work in an office
of our customers say they want to look younger
the number of active ingredients in our formula
the number of harch chemicals in our formula (including parabens, phtalates, sulfates etc)
the average daily cost of Incidental Sun Smart Serum
the number of States where we have clients
(Ohio, Montana, Vermont... why?)
of our customers have olive or black skin
of our customers have melasma
of our customer reviews are 5-star
(the other 3% are 4 star)
CERTIFIED CUSTOMER REVIEWS
I've been using this serum for several weeks and I really like it. It doesn't feel heavy on the face and didn't cause me to breakout as I have acne prone skin... even in my 40's. It also did not cause irritation on my children's sensitive skin nor did it look "ghostly" on the skin as many spf's. I like that its innovative but still natural and no need to reapply throughout the day. If you are looking for something light to wear over your regular moisturizer this works very well. There were times that I used it without moisturizer and it felt great. It looks white straight from the container but goes on sheer and makes your skin look more radiant. I would recommend this.
Bought this serum a few months ago and is now part of my morning routine, it not only protects my skin but it has improved the look of my pores which was a pleasant surprise for me. I highly recommend this product!
I love how lightweight this serum is. It doesn't leave a sticky residue on my face, or clog my pores. Super easy to add to my moisturizer every morning. My skin is important to me, and I'm grateful for Skinergies!
I'm a huge fan of serums, and I haven't found a sunscreen that doesn't clog my pores. The Incidental Sun smart serum is the best of both worlds. It pairs beautifully with my existing serums while jumpstarting my skin's natural ability to protect itself from ambient sun. I'm not in direct sunlight that often but now I no longer feel guilty (or worried!) about not wearing sunscreen. And the Smart Serum keeps me shine-free, which is an added bonus. Been using this product for about six months now and loving it. Already on my second tube, and really appreciate the free shipping and fast delivery.
The idea of being able to use a natural product for sun protection is very appealing. The ability to mix it with my regular morning moistuizer makes it amazing! I have been using this serum every day as part of my regular routine and love it. I have very fair, sensitive skin and I have not had any reaction since using. Do not even know that I have it on. There is no heavy feeling; no strong fragrance; just a simple application. One less step in the morning makes it easier to adhere to!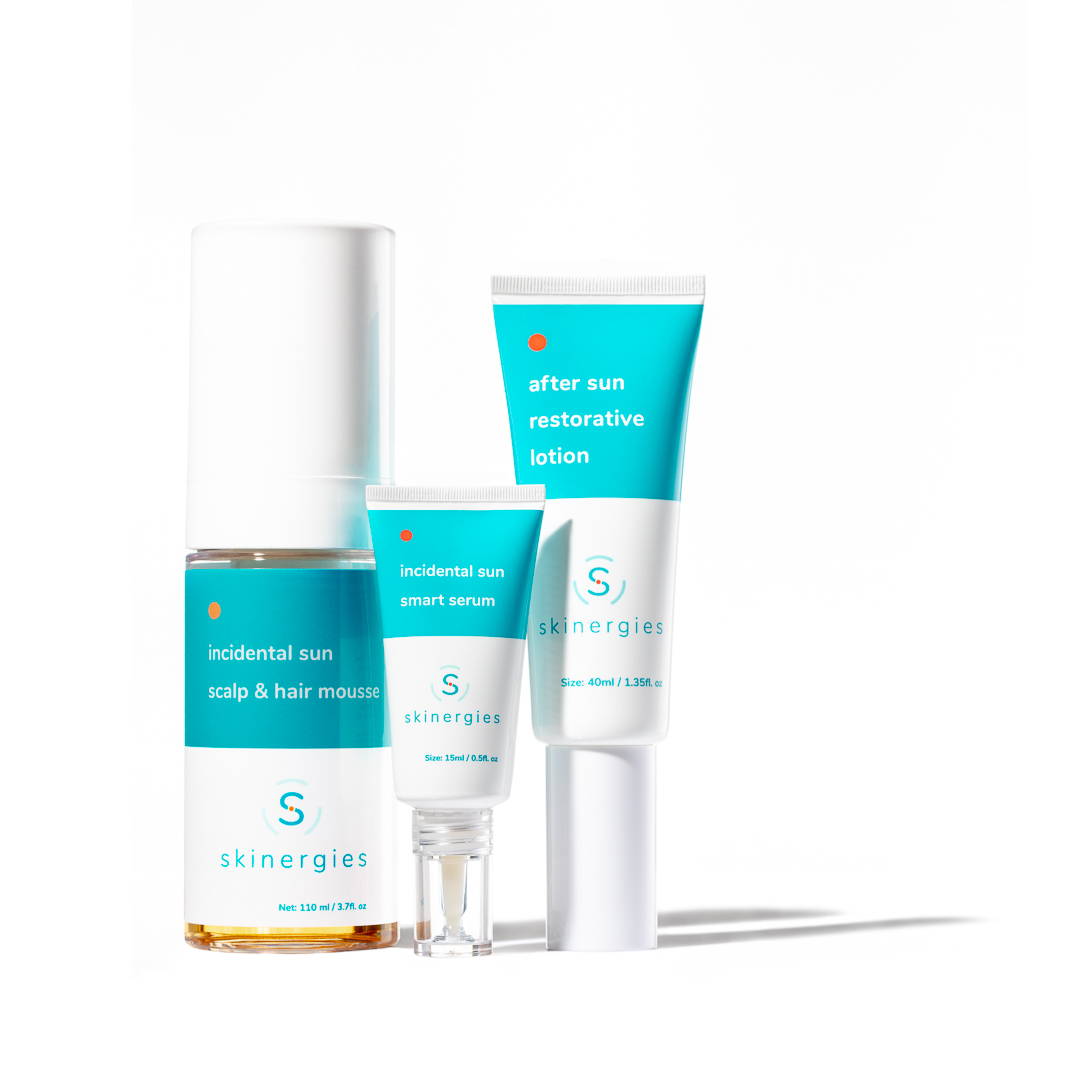 Skinergies skin care provides protection against the harmful effects of UV and other rays generated by ambient sunlight. Every day, day long, year-round. Indoors and outdoors.
Unlike traditional sunscreen, Skinergies primarily stimulates the skin's natural sun defense system while added boosters fight the signs of premature aging caused by passive exposure to UV-A, blue light and IR.
Clean beauty only.